How to choose a good education agent for study abroad
International education agents are individuals or companies that represent overseas universities and colleges in agents' home country to help local students for higher study abroad. While overseas universities/colleges recognise them as international education agents or international representative, students or parents know them as student agents, student advisers, student consultant, education counsellors, student counsellors, education advisers, education consultant etc.

Do students need an education agent
To study at overseas universities, it is not mandatory for students to apply through education agents; they can submit their admission applications by their own. However, most of the students fail to understand the process, make mistakes in application and become unsuccessful in securing a place as per their requirements. Additionally, some students prepare poorly for visa applications and interviews – this often results in visa refusal.
The 2018 QS Enrolment Solutions International Student Survey revealed that 62% of prospective international students consider agents to be "a trusted source of information about study abroad," and 60% said that "agents are useful in helping me study overseas but they don't influence my decisions."
9 deadly mistakes students make when applying by themselves to study abroad
Wanting to study abroad is a huge commitment that involves time, money and above all your future. For genuine students a degree from world-class universities in abroad could make a huge difference and you well deserve it. But despite being qualified and having financial ability, many students fail to secure admission and student visa due to mistakes in processing. They –
Do not collect enough information by researching courses, institutions, process of applications;
Do not prepare in advance and allow enough time for admission and visa application;
Lack knowledge in English language requirements or take incorrect English test;
Make several errors in admission and visa applications or submit wrong application to wrong person or place;
Fail to justify study gaps (if any), and how to communicate this with factual information and evidence (if available);
Fail to submit enough or correct documents when applying for admission and lodging file for student visa;
Fail to prepare properly for admission or visa interviews and prove their credibility as genuine student;
Do not maintain enough funds or have proper evidence or documents in specified format to prove genuine funds;
A good education consultant can help you to choose the right course at the right institution with right directions for your academic and career progressions. They can provide you one-stop personalised services and up to date information as they are experienced with local and foreign knowledge in particular knowledge on your potential destination country. They can explain everything and advise you for the needful in your own language for example, if you are a Bangladeshi student looking to study in the UK, you can choose to get advice in Bengali from the local agents in Bangladesh for better and complete understanding of study UK.
This saves you time, money and from accidental or wrong decisions and incorrect applications. This also reduces the risk of refusal and maximise your chance of success in admission and obtaining a student visa. By taking total student care, they, indeed, earn synergic benefits for you from your investment in the higher education overseas.
After all, most of the recognised education agents are normally trained frequently by their partner educational institutions for admission &visa application process, excellent student services, compliance etc. They can make the entire process a lot simpler and hassle free. You can add extra value to your higher education journey overseas with their expert & professional services.
In fact, educational institutions of top 7 higher education destination countries recruit on average over 38% international students via education agents. According to a report published by Observatory on Borderless Higher Education (OBHE) on 03 Sep 2014, percentage of students recruited via agents: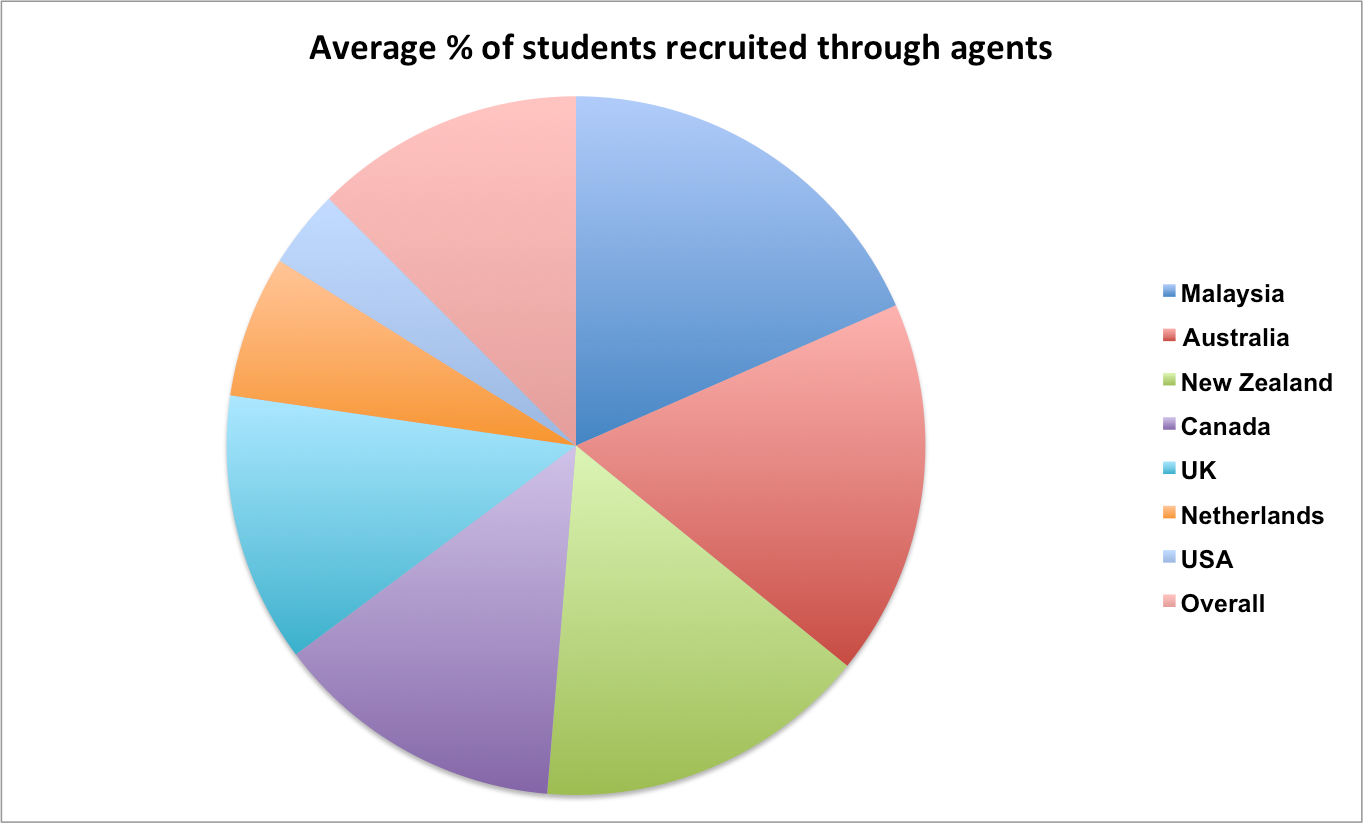 Over 92% of UK institutions recruit students through agents – this show the significance of agents for quality of services, recruitment of genuine students, successful student visa and enrolment. Evidently, education institutions of other top higher education destination countries too increasingly rely on education agents for successful student recruitment. Therefore, it is recommended that you take help from a good education agent for your overseas higher study application as this is one of the crucial steps in your life in which you cannot afford to make mistake and go wrong. Even if you have already chosen the university and course by yourself, you may consider using an education agent for all of the added benefits they are able to give.
23 great benefits of using an education agent
By taking services of a good education agent, students and their families can get a range of benefits that are crucial when going to study abroad. It would be daunting tasks or even impossible for students and their families to try and achieve these on their own. A good education agent can:
Provide accurate, relevant and up to date information regarding destination country, universities, locations;
Give information about academic & English entry requirements, tuition fees, deposit requirements, living costs;
Advise you on the appropriate English test you need to take to be eligible for a course abroad;
Show you a range of options for courses, locations, fees, living costs & other pros and cons so that you can make an informed decision;
Help you choosing the course that best suits your interest, skills and career goals;
Guide you for writing personal statements, research proposal and preparing for admission interview;
Inform you about potential scholarship and help you with scholarship application;
Tell you what documents you require to submit when applying for admission;
Make error free applications for admission at your preferred university;
Follow up with the university for updates and decision on your application;
Guide you on paying the tuition fees to the university;
Collect all necessary documents, letters required for your student visa application on time;
Prepare you well in advance for student visa application with precise information regarding documents and steps you will require;
Help you through the visa application process and lodging the application;
Provide guidance on visa interview as applicable & appropriate for your situation;
Provide you pre-departure briefing so that you have clear idea about what to do after you arrive in the destination country;
Make travel arrangements from your home country to the place you will be staying abroad;
Advise and arrange suitable accommodation for you to live while studying overseas;
Follow up with the overseas educational institution to help you with timely enrolment;
Request international office of educational institution for any extra help & support you may require;
Offer you post-arrival advice, help and supports while you are studying overseas;
Connect you with other students who went to the same country through their help;
Help you with further admission or finding jobs once you complete your current course of study;
The above list is not exhaustive as there are lot of other benefits students can take from a good education agent as and when required.
How to choose a good education agent
The education agents industry is growing rapidly as more and more students, families, universities are becoming dependent on them due to their importance in the sector. It is a well-recognised profession and plays crucial role between students and educational institutions. However, like every other profession there are good agents and bad agents. When pursuing your higher education dream via the help of agent, a good agent can 'make it' while a bad agent can 'break it'. When selecting an education agent, check the following for reliability and trustworthiness:
If the company is registered or has trade licence from the appropriate authority;
Whether the consultants are trained by either British Council, UK NARIC, UCAS, PIER or ICEF etc.;
How long they have been working as education agents and how much experience they have for your chosen country;
Do they have a rich portfolio of universities and colleges with wide range of courses to give you enough choices;
Do they have agent agreement with the universities of your choice;
Have any of the consultants studied and visited the country you intend to study;
Do they have detailed knowledge of higher education system of the country they help students for higher study;
Have they listened to your requirements with attention, eagerness, enthusiasm and interests & offered services that best meets your needs;
If your budget is low, have they explained with reasons why and how much you will require for your chosen course;
Have they been able to tell you the entry requirements, course duration, fees, intakes, available scholarship & admission criteria for your chosen university;
Have they told you how long it would roughly take to complete the whole process;
Have they given you a clear list of documents that you will require for admission and visa application;
How responsive they are with your queries and how much clarity in their responses;
If they have properly staffed office at good place that is reasonably visible and accessible;
If they have office or co-ordinator in the country you intend to study to help you when you are there;
Has any of your friends or known student taken their service – are they satisfied;
If they have a website with clear information of the services, partner institutions;
Do they communicate via company official emails in reply to your emails & queries;
What type of reviews the agent received by students taken their services in the past;
Quality of social media presence, standard of people they are connected with and type of services and offers in their campaigns;
17 ways to identify bad education agents
It is not difficult for students with genuine intention of higher study abroad to be able to identify bad education agents who are operating in the sector. They just take chances with students' life and sometimes they work as sub-agents or sub-sub-agents and do not bother about quality of services or outcomes of their actions, they only care about their self-interest. Normally, a bad education agent will do one or more of the following:
Mislead you about course or institutions purposely;
Ask you to leave your original documents with them;
Will not explain you the process clearly due to lack of knowledge;
Will not give you detailed information because of their ignorance;
Provide advice unprofessionally, do documentation poorly, take action irresponsibly;
Submit applications to their chosen institutions without your consent and insist you like it;
Will not forward you the original emails or letters sent by educational institutions;
Ask you to pay tuition fees in cash to them or their chosen person;
Offer you course far below the market standard of the country;
Promise you anything on behalf of educational institutions;
Will claim of having 'own people' inside universities and embassies to favour them;
Make promises outside their scopes and beyond their ability or resources;
Say bad things to demean other agents or institutions by name;
Provide you bank fund supports or help you with other cheating;
Offer cash incentives so that you do not go to other agents;
Lie or publish false information to mislead others;
Guarantee you admission, visa, job, permanent residency etc.;
A good education agent can make the whole process from beginning to end very pleasing and satisfactory while add significant value to your higher study experience overseas with pre & post admission services. They will always extend their hands when you are within their sight and also when you are out of their sight should you seek help. It is up to you to decide whether to take services of an education agent or not. Should you choose to take services of an education agent, it would be highly rewarding if you could select a good one from the lot around you.