Blended learning has become the latest teaching method to make an impact in learning today. From schools to universities, it is being used to bring the digital world and traditional face-to-face teaching together to enrich learning processes.
What is blended learning?
Blended learning in simple terms is mixing learning methods to combine the learning targets or outcomes - it is a mix of traditional face-to-face teaching and online study. For international students coming to study in the UK, it means you will spend some time at University/College for in-person lessons on-campus and you will learn other lessons remotely online by using digital learning platforms. The percentage of on-campus and online lessons may vary subject wise or university/college-wise. Remember your assessments too may be conducted through blended methods.
In blended learning on-campus and online learning are complementary and it creates an integrated learning environment.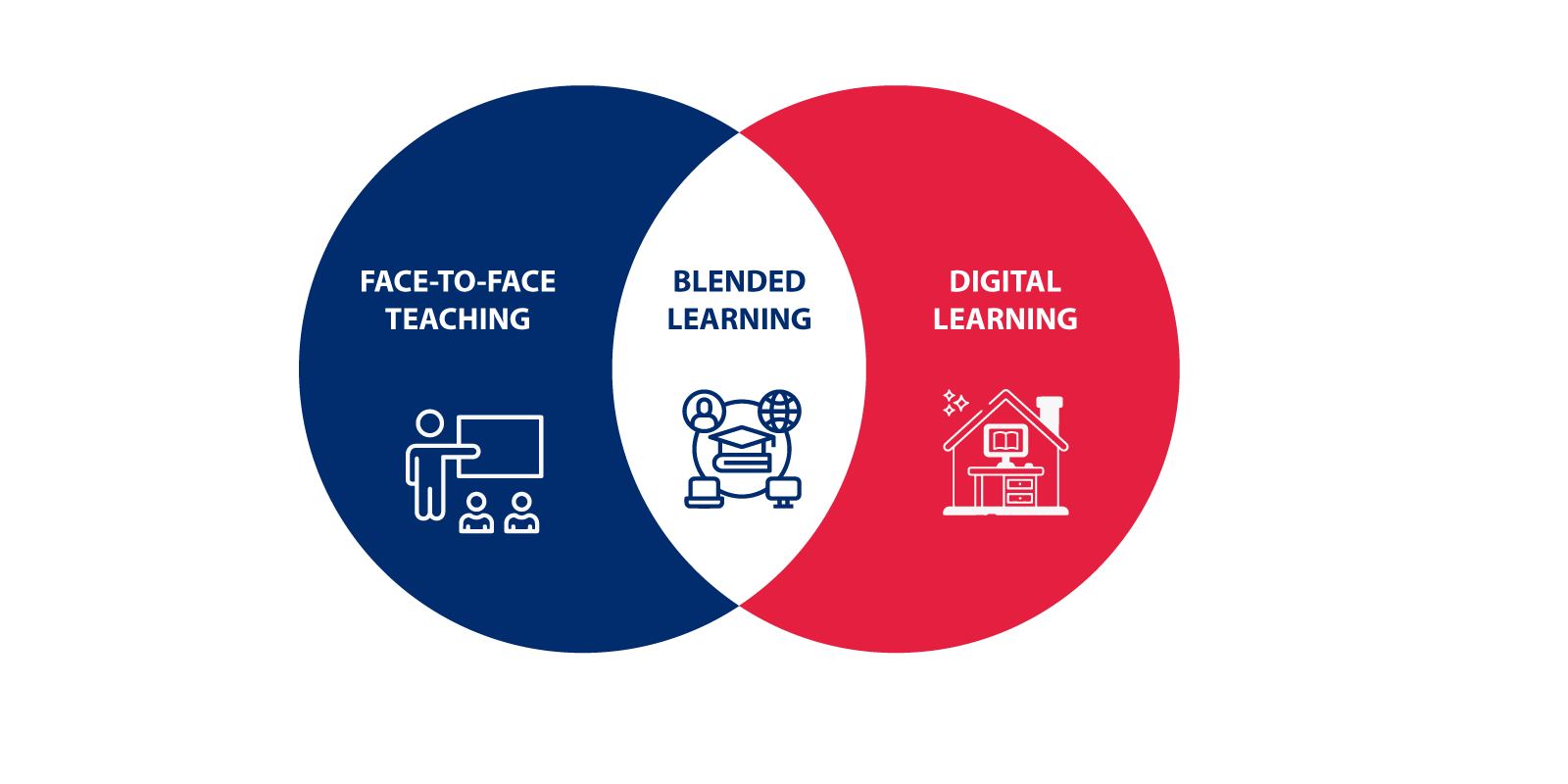 10 major types of Blended Learning
Station rotation: With this blended learning model, students rotate among multiple "stations" on a set timetable in this integrated learning style. At least one of these stations is usually an online learning station.
Lab rotation: This method is similar to the one described above, with the exception that online learning takes place in a separate computer lab. It provides additional flexibility for both students and educators while utilizing existing resources.
Individual rotation: Again, this model is similar to both station and lab rotation. However, it is personalized for each student and not every student will visit every station.
Remote blended learning: Remote blended learning is also known as Enriched Virtual blended learning. In this learning, the student's focus is on completing online coursework while only meeting with the teacher as and when needed.
Flex Learning: The goal of this blended learning method is to provide flexibility. This method revolves around online learning, with teachers providing help and instruction as needed by the student.
Flipped classroom: It is the most widely known version of blended learning, In this method students are given lessons to work at home and practice working through it at university/college supported by teachers and/or peers i.e. studying at school and learning at home.
Supplemental blended learning: In supplemental blended learning students are given extra online course content to enhance the face-to-face classroom learning. This method is used to encourage students gaining extended learning in addition to learning from on-campus classes.
Outside-in blended learning: In this method, students access digital devices to learn courses from outside classroom on a daily basis and bring their learning in the classroom and hence the classroom is the final platform to share, collaborate and review feedback face-to-face.
Inside-out blended learning: Inside-out blended learning method is outward and normally used for project-based learning. In this, students learn courses on-campus but finish the course project outside class.
Self-directed blended learning: In self-directed blended learning, students use combined methods of on-campus and online learning for personalized and better performance to fulfill individual academic goals. It focuses on student initiative and encourages students to take responsibility of their education.
14 Benefits of blended learning
Material is available at all times: Learning material is available online for students in Virtual Learning Environment (VLE). Students can log on and access learning contents, lectures whatever time works best for them.
Access to global resources: In online learning, learning is not limited to textbooks, tutors and peer interactions. Students can access global learning resources and materials that are required for learning needs.
Increase focus: Students can access huge amount of online content on smartphones/laptop/tablet, they are free to view whatever content they want at their own convenient time. This flexibility of time help them to focus as they would be able to choose time that does not overlap with their other daily tasks.
Learning through research and analysis: Students can revisit lessons learned in classroom via online. They can explore deeper into the subject from the comprehensive level of online resources, research, analyse, review their learning and obtain better understanding. This also helps them increasing their research skills.
Autonomy in learning: Blended learning provides autonomy to the students allowing them to take charge of their own learning and set their own learning goals. They can learn independently when online and take own responsibility for better performance.
Increase student interest and engagement: In blended learning environment, when using technology at fingertips from outside classroom and alone from teachers and peers, students show more interests in lessons and get engaged with learning materials as they are at ease and comfort and not under pressure.
Learning by doing: Traditional learning can sometimes be routine basis and monotonous as the teachers delivers lectures while students listen to those. When students learn online, they learn lessons by reading/listening contents and doing tasks given to check progress. Hence students get the benefit of learning by doing at online part of blended learning. This allows them to take personal ownership of their learning.
Learning from anywhere anytime: To supplement classroom lessons, students can access online lessons from anywhere at any time that suits their mood and learning environment.
Self-paced learning: At online part of blended learning students do not need to follow fixed classroom timetable as this flexible and all-time accessible – they can access lessons for irregular duration and pace their learning needs at their own freedom.
More interactions with teachers: Online learning allows students to have more interactions with tutors through multiple methods of communication i.e. emails, discussion boards, blackboards, Microsoft, chat rooms, zoom, skype, social media, google hangouts, webinar, whatsApp and phone call etc. Teachers can rapidly analyse, review learning and give feedback to students quickly.
Personalised learning: When not in a large group traditional classroom-style learning environment, the teacher and the student have more opportunities to personalise their learning. By utilising online tools and resources teachers and students can tailor the contents so that those are easy to consume and fitting to the learning style of students.
Time and cost saving: Maximisation of distance and online learning saves costs in commuting, paper, books, stationary, foods taken during long class hours. It also saves fixed time to travel to classes held on campus.
Preparation with skills for future: In blended learning students develop their technological skills, analysis and research skills, interpersonal skills, communication skills, personal and professional skills. These skills prepare them for the future course of study and world of work.
Wider networking: Students can connect with peers and other global students for group discussion, help and support and connect with a world of students. This helps them to establish networking opportunities become a global citizen and reap future benefits.
It is important to note that to cultivate the benefits of blended learning, students need to have technological tools, access to internet and be technology literate. In addition to that, they must be aware of the risk of plagiarism when doing coursework through the help of online open-source content and material.
In-person learning for international students
With blended learning, international students will be able to experience in-person learning while be physically present in UK and other overseas countries.
The recent COVID-19 global pandemic has reshaped the education system and learning processes – according to UNESCO, 1.38 billion learners have been affected in global education by the pandemic. For a safe educational environment and well-being of students and others, education providers have been promoting blended learning actively and it is gaining popularity globally.